08-09-2015, 03:00 PM (This post was last modified: 08-15-2015, 09:22 AM by SethDrallitoc.)
Once again I have to thank MellyMonkey for inspiring another project. Well - Sort of.
I have been trying to get through my Lustria set before I start my next project. I have long been toying with the idea of building a plague stricken imperial town. When MellyMonkey asked me to do a tutorial on leaded glass, I decided that I would really need a building to put the glass into (for the sake of context).
So I started building a Tudor style house and remembered seeing the following:  
(04-17-2015, 02:18 PM)

MellyMonkey Wrote:

(04-17-2015, 11:45 AM)

Caleb Wrote: Not much of a hunt. I could probably swing it if my camera complies.


It's always nice when they come willingly.

Tob, I could see you doing examples of the benefits of Future floor polish or gesso... you champion these things quite often.

Off the top of my head, I wouldn't mind seeing someone going through how they take broken paint brushes or

bullet casings and use them to stamp bricks

. I've tried on my own and I'm obviously missing something because mine do not turn out like the pros.
This was something I had never heard of - but I instantly understood exactly what she meant by it. So I went and grabbed a .22 caliber bullet casing from my bits-box and did a quick test:
a surprisingly short time later - I am well on my way to having my first piece: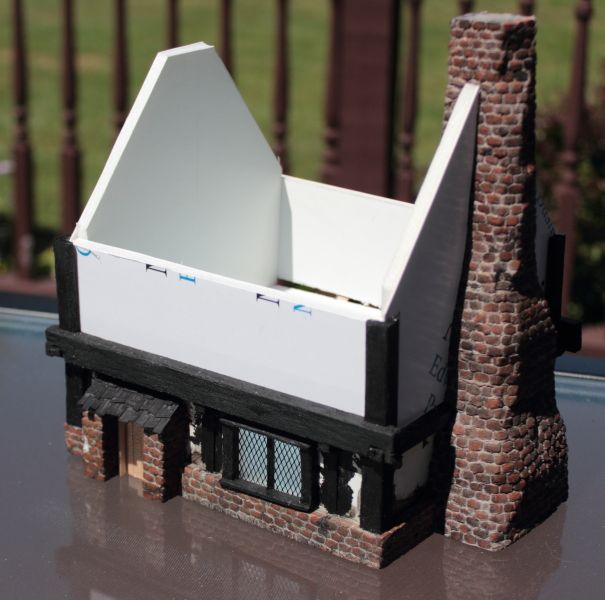 I have some minor complaints about how it's turned out so far (some of the wood just looks too straight)- but I LOVE the brickwork!