So this project is for a terrain competition at the MiniWargaming.com.  Group Build 71's theme is "Power".  Each project needs to represent some form of power generation, collection or nexus point.  I have recently been introduced to the game: Relic Knights.  This game is set in an Anime Themed Sci Fi environment and has an element in the fluff and game play called Esper.  This energy source seems to work like "The Force" in star wars but has 6 flavors rather than just light and dark.  In game, terrain elements with Esper crystal growth can be used to draw Esper to be used to power a unit's actions.  I decided to make a power generator that is utilizing these crystals. 
Relic Knights is produced by Soda Pop Miniatures.  Because of this I have been slipping bottle caps into my Relic Knights themed terrain.
The design:
And the cutting of the foamcore commences!
And after doing some cuttin and gluein while watching Ghostbusters for the first time in 20 years: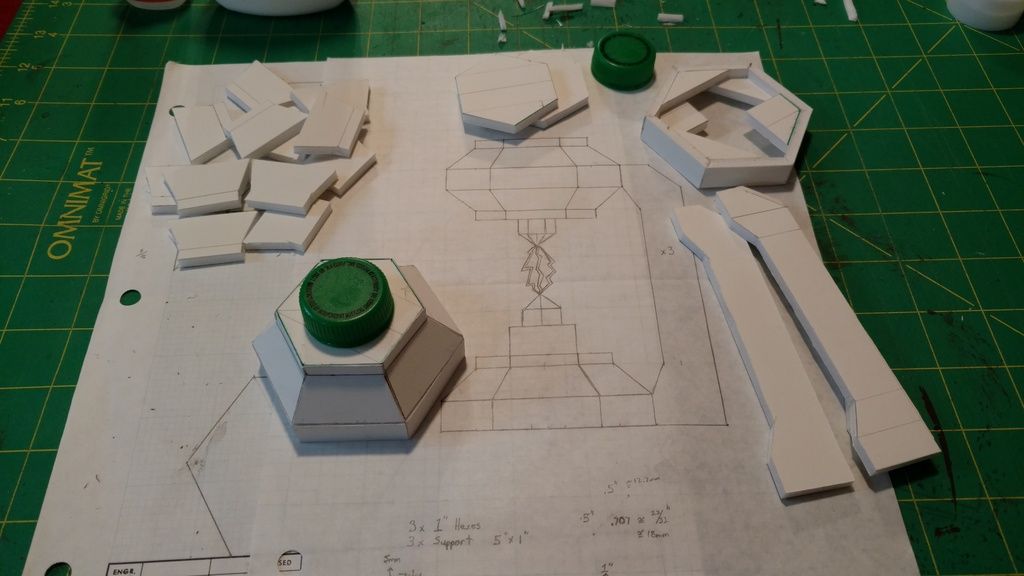 So here is the progress so far....  The main Structure is complete, now for all the gubbins and what-not.  
I've decided I need a base of some sort with a control console.  I've got my design and the basic structure of the base finished already but none of the detail.  I'll post pictures once I finally get them downloaded off my phone.  After that I will be adding some random detail bits and then to the painting.
-DavicusPrime