06-21-2016, 03:42 PM (This post was last modified: 09-16-2016, 03:46 PM by BlueMeander.)
So I made a thing for the Miniature in Miniature competition but I guess I couldn't really call it finished because I didn't close up the mini in mini part to make it look completed cause if I did that, it'd be hella dark in there. It's actually a bit too dark now as is and I had to take the photos with a lamp shining down into it to get even what I did there. So anyway, I needed to do the electronics lighty part, but since I've never done that (like... how many times have you heard me say that? broken record much?) I didn't even know where to start for the competition. But now that that's over and I'm not under a time constraint, I decided to give it a go.
I recently watched a YT video by a miniature artist who was making a Japanese garden style terrain and it was cracking me up because a year ago I would have been like COOL OMG but now that I've been hanging around y'all terrain people I'm like WHAT ARE YOU DOING THERE ARE BETTER MATERIALS FOR THAT. But I digress. The point is that the artist, who was actually very talented and no offense meant, repurposed one of those plastic votive candles to make a lit garden lantern and it made me go DING that I could try that for my Sophie's millinery studio windowbox.
(Post to the final entry shots which includes links to the WIP if you didn't see the project and if you care cause whatever, maybe you don't, I don't know you or your struggle http://www.terragenesis.uk/showthread.php?tid=393 )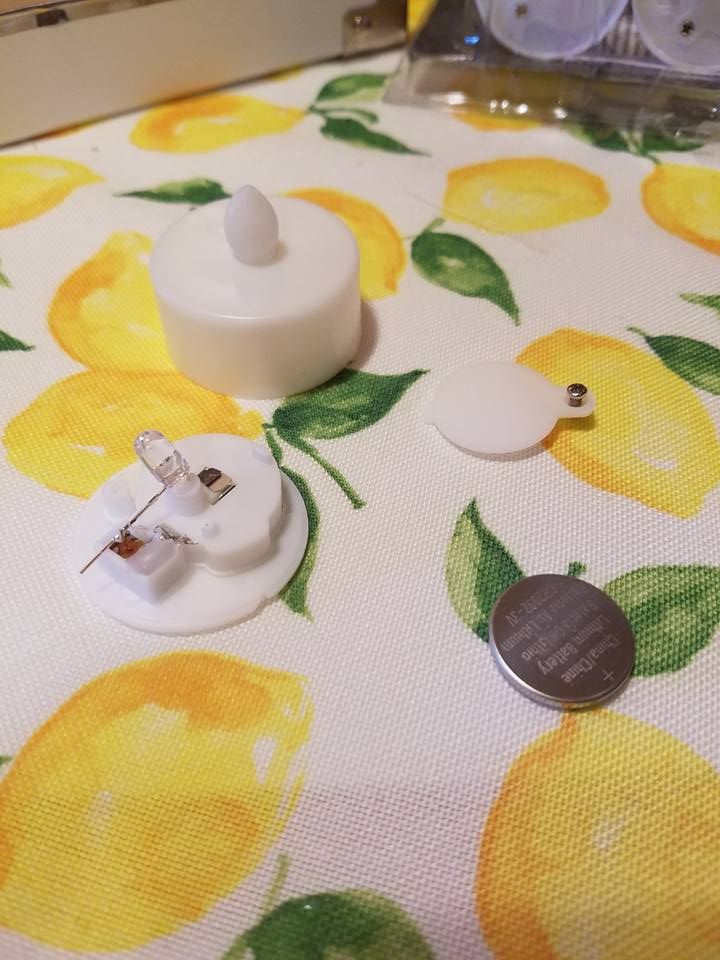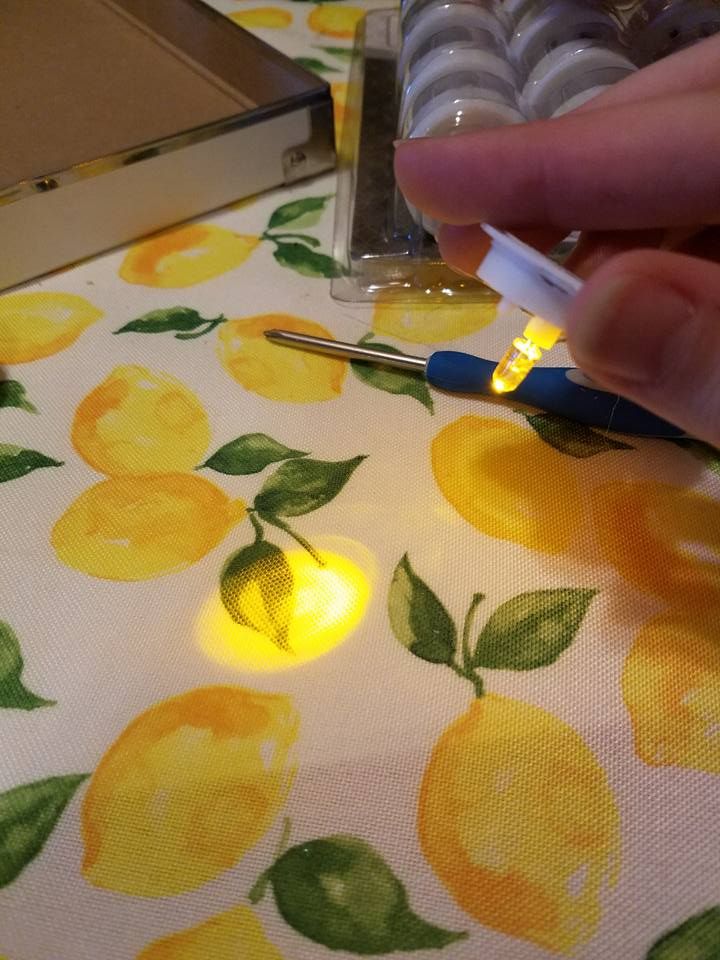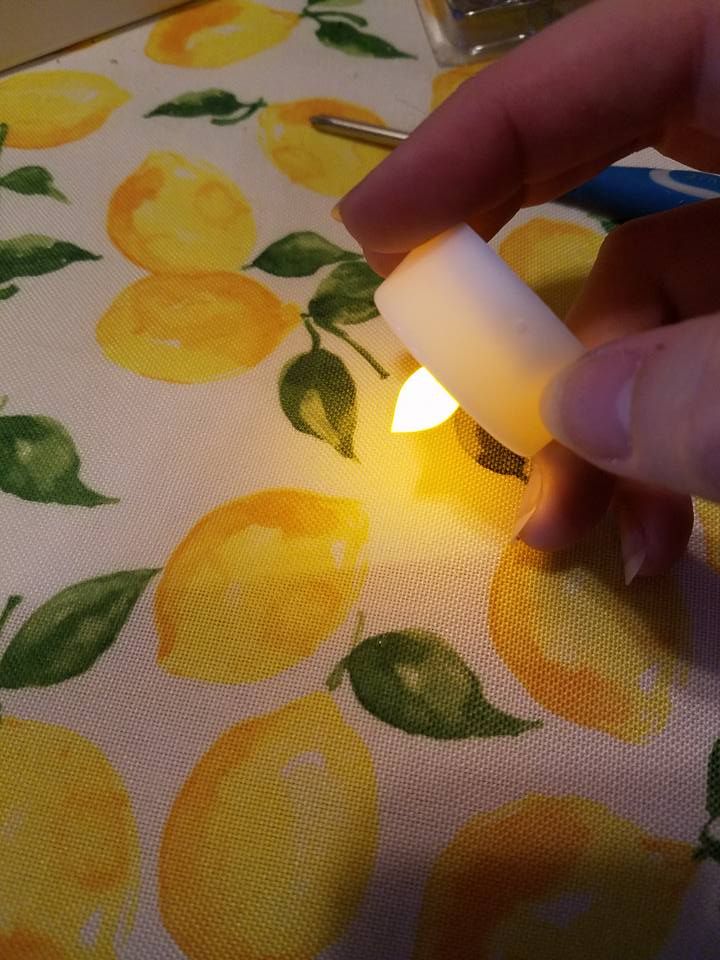 So the light, deconstructed, definitely needed diffusing because without the faux flame diffusing cap, it basically was a yellow flashlight.
I basically chose a direction for the sun and figured I could mount it up in the top somehow and then enclose the box with the switch on the outside. The mounting setup on the candle was actually pretty decent.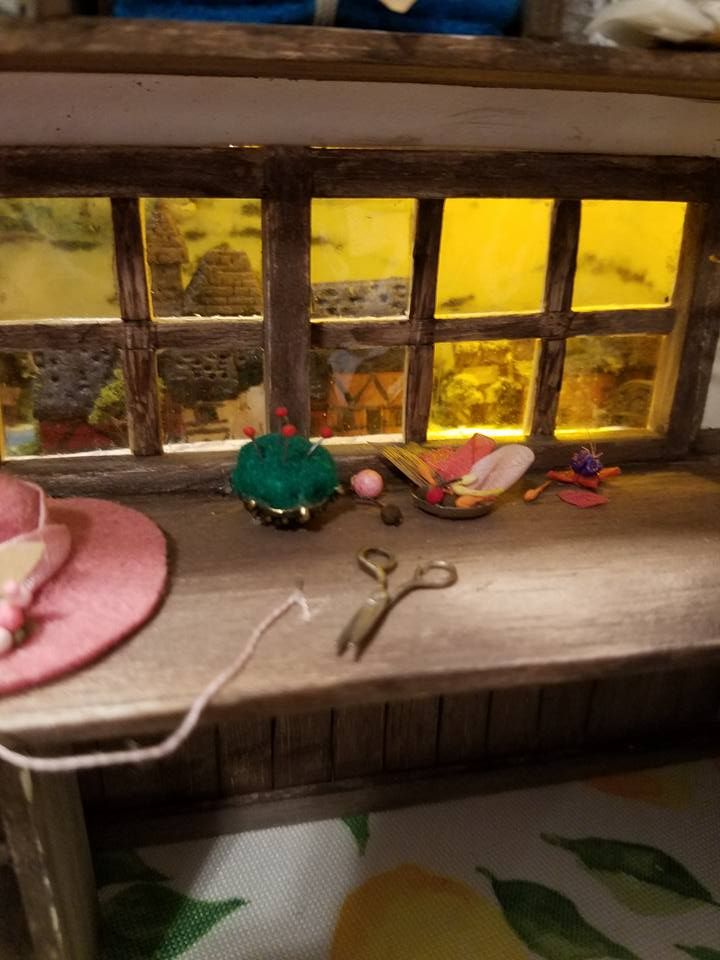 Except the yellow bulb made it look really weird. And the fact that it flickers makes it look like stuff's on fire (and we all know that doesn't happen until a good hour later.)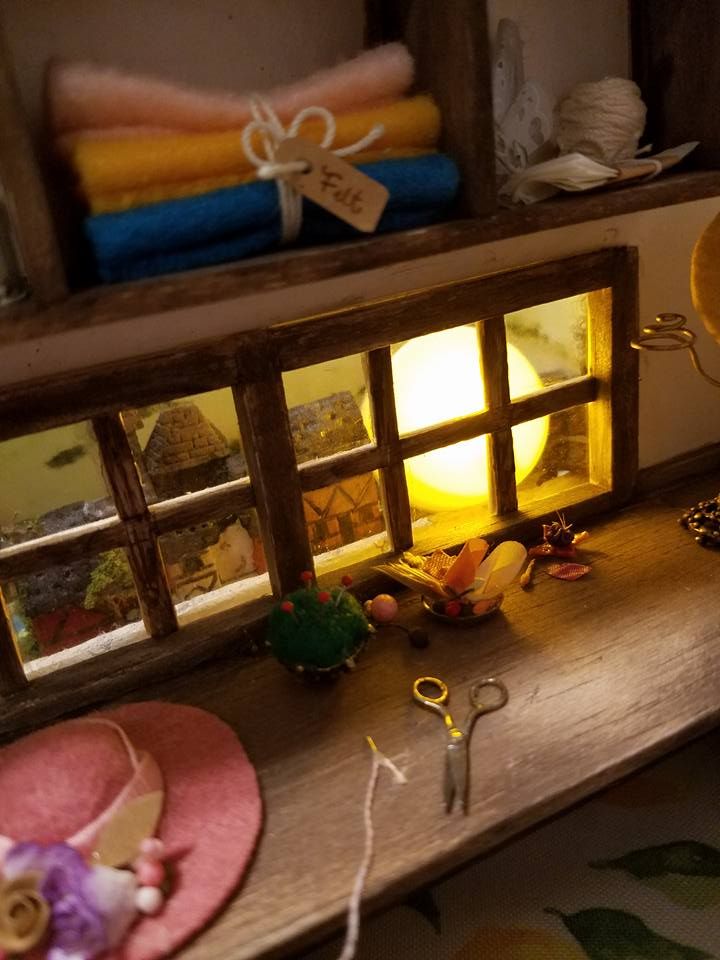 Then I accidentally dropped the sun into the town alley. The shockwave blew apart houses faster than the eye could process. Not that the eye could really process because all the bodies that owned the eyes were already melted away. Actually, I think everything was probably long dead before the sun made physical contact with Market Chipping that fateful last night when I photographed this. The point is suns are hot and astronomy is confusing and the scope of the heat and power of the sun are beyond my understanding. All I know is that those are some intensely powerful scissors and hats to withstand a planetary collision like this. Materials with strength beyond words. Move over, mithril, you ain't got nothin on these scissors.
Speaking of Market Chipping, I feel like I really didn't do this very well. There's so much going on back here that you kind of can't see from the window. The bridge, the train, the railroad, not to mention the resin stream. I feel like my MO is basically to do a bunch of details that nobody can see. That's how you know it was my build.

Maybe I should have made the box portion bigger. Oops. In my defense, we all learn from messing up, eh?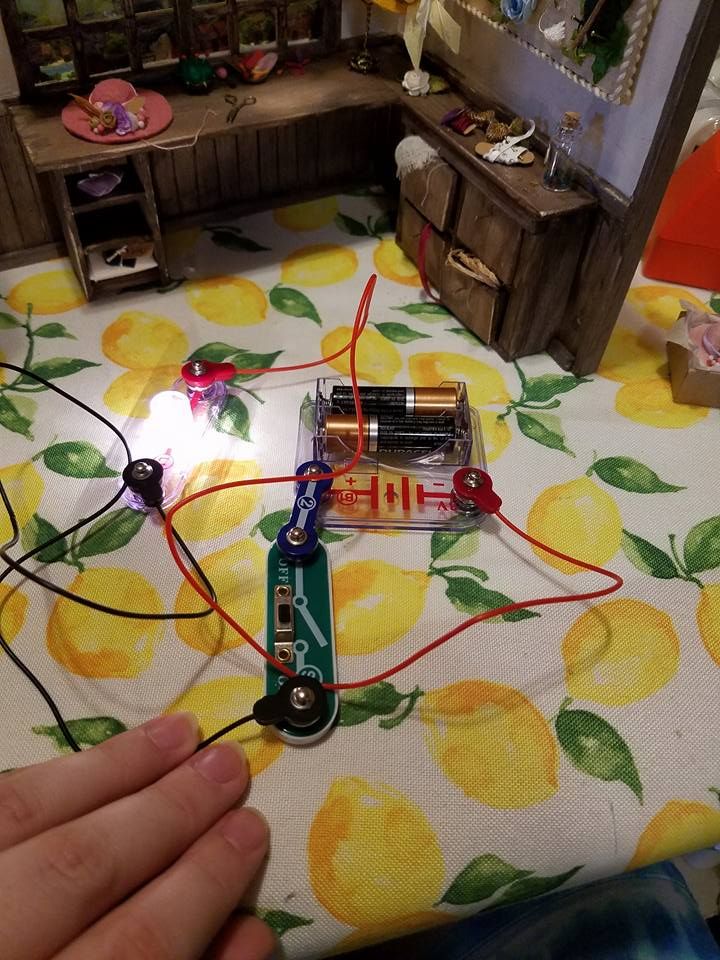 Anyway, at this point I figured the yellow light was the issue so I broke out my kid's Snap Circuits and hooked up the white LED I knew was in the kit and tried that.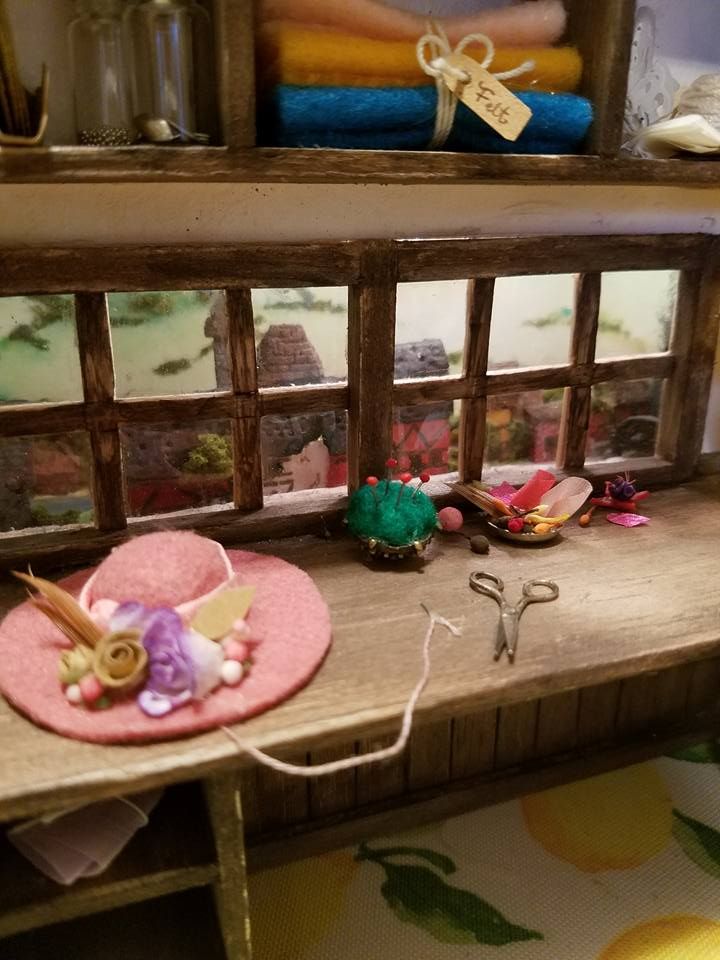 OMG WAY BETTER.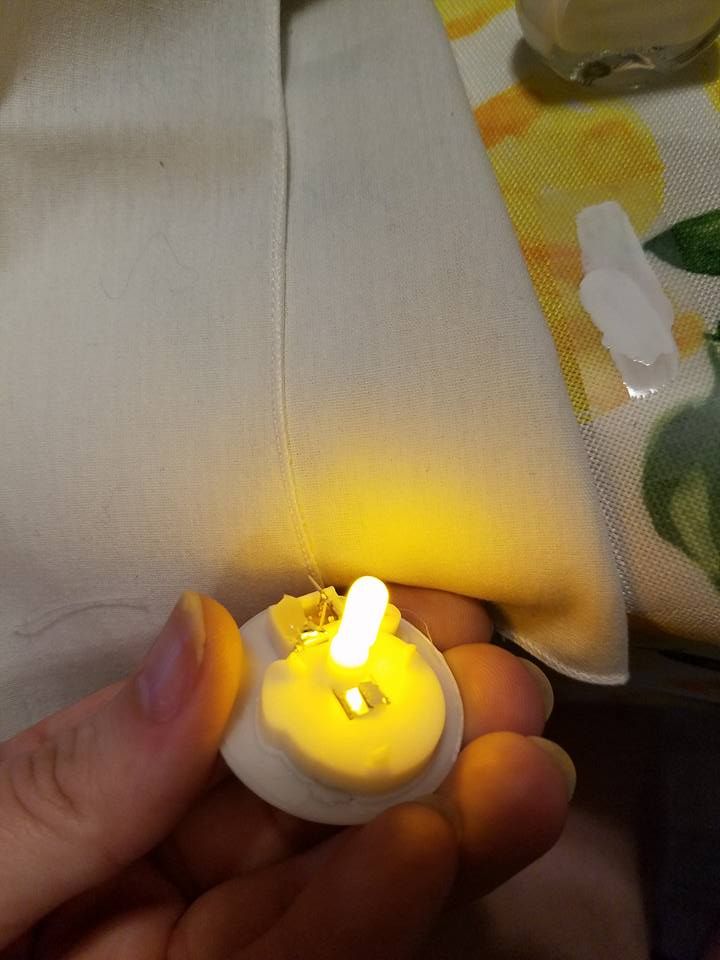 Just on the off chance, I tried painting over the bulb (you all are probably like, "no, that won't work, dummy." but, as I have never tried this before, I didn't know that. Now I know that.)
So, now understanding I definitely need a white light in there (or at least a less fire-orange hue) I'll have to go track down one. The good news is that I can use this candle as a reference for how to do the soldering or whatever crap and where to put the wire mabobs. Now I just need to figure out WHAT kind of mabobs to get. I mean, the LEDs, sure, but are there different... I dunno, watts? Or... like, get wires but are there different capacities I need or something? I mean, I get snap circuits level electronics where they've put together a kit that you know won't blow up unless you short circuit it or something but when I'm just buying loose bits I'm not sure how to make sure they're compatible.

I oughta bring my friend partner guy with me. He did advanced electronics in the  military. Like what the heck, I've basically got a walking electronics manual sitting 5 feet from me right now, right?